Adhesiolysis Beverly Hills
Abdominal and Pelvic Adhesions develop as a result of one or more previous surgical procedures. An adhesion is a band of scar tissue that binds two parts of tissue or organs together.
Not every patient will show signs or symptoms associated with these adhesions, however, it is estimated that 90% of patients undergoing abdominal surgery and 55-100% of patients having pelvic surgery will develop adhesions.
PICTURE 1A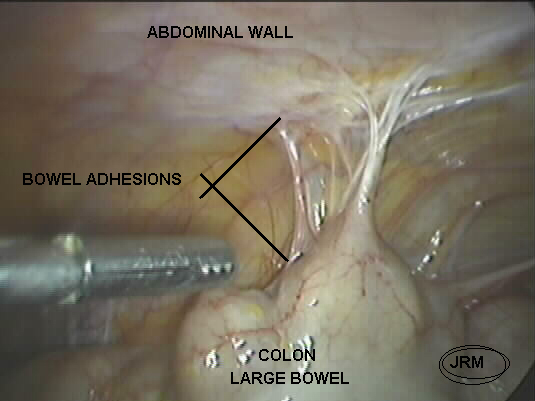 PICTURE 1B
Treatment Options for Adhesions ~ Laparoscopic Adhesiolysis
The removal of adhesions is known as adhesiolysis. Drs. Miklos and Moore are experts in the laparoscopic removal of abdominal and pelvic adhesions. Through their minimally invasive technique and advanced skills, they minimize the likelihood of the recurrence of adhesion formation.